products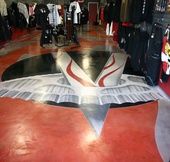 Stains & Dyes
Dyes [solvent/UV-resistant]
Pellucid Dye | UV resistant dye for concrete surfaces
Pellucid dye is an important colorant for concrete surfaces which is designed to penetrate exterior and interior cementitious surfaces. It is translucent, UV stable aqueous acrylic dispersion of organic and inorganic pigments. It creates unique, multicolored translucent pattern that is not the same as the traditional colors. It is available in 20 standard colors. However, unique colors can be generated by combining different colors. When compared with ordinary paints, Pellucid dye is better because it does not crack or peel. Pellucid dye is available in United States and Canada.
Why use pellucid dye
Very economical as it penetrates easily
Relatively cheap to buy
Creates a beautiful mottled effect similar to acid rains
VOC compliant when diluted as recommended
UV resistant
How to use it
Before application, it is important to ensure that the chemical is well mixed by reading the instructions presented with the chemical. Trained personnel should be used in this case to ensure that high quality result is achieved
The first step to do this is mixing. The chemical should be mixed with acetone in 1 quart, 1 gallon or 5 gallon increments. Following the instructions written, it is important to mix the chemical in the most efficient manner. It is important to mix the chemical container for 30-45 seconds. Ensure that you don't use an electrical device to mix the dye.
After mixing, it is important to test the chemical using a predetermined test area. If the result is good, then it is time to apply using an acetone sprayer with the tip being approximately 240. The application should be in a circular motion. It should be applied evenly to ensure consistency.
Precautions
Should be stored in places between 500F and 800
All ventilations should be blocked before application
It is flammable thus you should not smoke
Do not apply it over carpet
Should be spread evenly
All requirements on the pellucid dye cover should be followed
Technical Data
| | | | |
| --- | --- | --- | --- |
| Solids Content | 10% | VOC | <50gal. |
| Drying Time | 15 minutes | Min. Application Temperature | 50°F |
| Re-Coat Time | 20 minutes | Wet Appearance | Colored liquid |
| Foot Traffic | Depends upon the sealer | Dry Appearance | Colored surface |
| Wheel Traffic | Depends upon the sealer | Concrete Adhesion | Excellent |
| Blush Resistance | n/a | | |
Color Chart
Raw Sienna
Black
Chestnut
Chocolate Brown
Glacier
Forest Green
Burnt Sienna
Egg Plant
Dixie Red
Sand
Turquoise
Sadle Brown
Terra Cotta
Gold
Midnight Black
Slate Blue
Green
Mahogony
Caramel
Walnut