products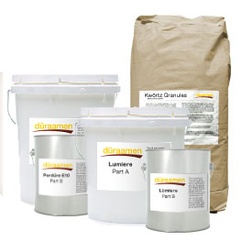 Seamless decorative quartz flooring for high traffic areas
Kwortz flooring- seamless decorative resin flooring system of epoxy & graded quartz
Having a unique floor is very desirable among many developers. But what makes a good looking floor? Traditionally, it was very expensive for developers to come up with a unique floor that would touch people's hearts. Kwortz flooring system is a system that has for many years been used by thousands of developers in America, Canada and the rest of the world with a very positive feedback. It is a seamless decorative resin system that is made up of clear, 100% solids epoxy resin filled with a variety of graded quartz, marble or ceramic fillers.
This product is recommended for the following developments:
Airports: Baggage/service terminals
Animal areas: Housing, cage washing
Beverages: Processing, Packaging, bottling
cafeterias
Chemical processing
Corridors: Docks/ramps
Food: processing, preparation service
Hospitals: corridors & Lobbies, patient rooms, operating rooms
Laboratories
Locker rooms
Mechanical Equipment Rooms
Pharmaceutical plants
Schools
Showers
Manufacturing: light and heavy duty
Warehouses
Why use Kwortz Flooring System
Reasonable low price
Creates a unique feel for all floors
A variety of color systems available
Finished flooring system can be textured or smooth as per the specifications
Decorative aggregates are available in a series of pre-blended patterns
Factors to keep in mind when applying Kwortz Flooring system
There must be a vapor barrier on or below the grade installation
Special treatments are very necessary where hydrostatic pressure or moisture vapor transmission are present
Substrate temperature must be a minimum of 550F
Substrate must be free of dirt , waxes, curing agents and other foreign materials
All control joints and expansion joints in the substrate must be revealed with the appropriate divider strips in the topping.
For an exclusive installation guide, please visit this link http://www.duraamen.com/how-to/installation-kwortz/
Perdure NE33
Perdure NE33 is a very important substance used as a binder or sea coat where extreme chemical resistant performance is needed.It is a 100% solids Novolac epoxy coating ideal for harsh chemical and solvent resistant applications. To date, Perdure NE33 has been used in thousands of developments in America and Canada with over 98% client satisfaction level.  This product is available as a clear solution and standard colors. However, custom colors are readily available upon request
Why use Perdure NE33 
There are many reasons why people continue to use Perdure NE33
Low viscosity- This property is very ideal for trowelled mortar and slurry applications
100% solids thus low odor during application and curing
Can be recoated in 4-6 hours
Exhibits strong resistance to strong acids, alkalis and most industrial chemicals
Relatively low prices
Durable- Lasts long after application
Technical Data
| | | | |
| --- | --- | --- | --- |
| Flammability, ASTM D-635 | Self Extinguishing | Water absorption, ASTM D-570 | Nil (<0.05%) |
| Adhesive Strength, MIL-D-26413 | 420 psi | Thermal Shock Resistance, ASTM C-884 | Passes |
| Fungus & Bacteria growth | Will not support growth of fungus or bacteria when subjected to mildew and bacteria tests | Abrasion Resistance, MIL-D-3134F §4.7.3 | Withstands 16ft/lb without cracking, delamination or chipping |
| Hardness, ASTM D-2240 | 80-84 Shore D | Compressive Strength, ASTM C-570, 7 days | 12,600psi |
| Bond Strength to Concrete, ACI Comm #503, Bulletin 59-43 | 400 psi (100% concrete failure) | Tensile Strength, ASTM C-307 | 2,600psi |
| Resistance to elevated temperature, MIL-D-3134F §4.7.4 | No slip or flow at required temperature of 158°F | Flexural Strength, ASTM C-580 | 4,300psi |
| Coefficient of friction, ASTM D-2047 | 0.80 | Thermal of Coefficient of Expansion, ASTM C-531 | 22 X 10-6 |
Color Chart
Oceana
Reef
Sage
Mint
Storm Cloud
Tweed
Quarry
Incan Gold
Timberwolf
Slate
Cheyenne
Ocean Wave
Fog
Sable
Camel