products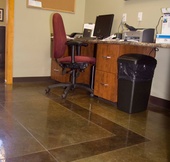 Endura Resin Chip System
Garage Floor Epoxy Coating
Endura | high performance grade III resin ship system
Having a good and long lasting floor is very important. EnduraTM is a very important product which is intended to make garage floors, basement floors, workshop floors and other floors which are subjected to high level of impact strong. The product has been used for many years in United States and Canada where the success rate has been enormous. This system combines the benefits of Epoxy resins and Polyaspartic technology. Epoxy resins offer good wet ability and adhesion to various substrates whereasPolyaspartics offer very high abrasion resistance.
Some of the benefits of using EnduraTM are:
Keeps the floors durable for a long time
It offers a cheap solution to floor management
Zero VOC systems
Fast cure – people can use the floor within a few minutes after application
Excellent abrasion
Offers chemical resistance to the floor
For more information, follow this link http://www.duraamen.com/how-to/installation-endura/
Endüra E02 | 100% solids moisture tolerant epoxy primer
Endüra is a 100% solid, moisture tolerant epoxy primer for concrete and masonry surfaces. Endüra is a very important chemical which should be applied to all floors to ensure that they are durable. The main property that makesEndüra EO2 suitable for its role is the fact that it is moisture resistant. As it is known, water can lead to the damage of any kind of floor. The product has been used all over United States and Canada. It is available in clear and standard clear and standard colors. Custom colors can be ordered too. For successful installation of any resinous flooring systems, a concrete surface profile (CSP) of 4 to 5 is recommended.
Why use Endüra 102
Some of the advantages of Endüra 102 are:
A cheap option to ensure durable floors
Has a fast cure characteristic which facilitates easier use
Low viscosity which facilitates good wetting
Conforms to ASTM C-881 requirements
Moisture insensitive cure
Endüra E21 | 100% solids pigmented epoxy floor coating
Do you deal with chemicals in your work place? Or do you perform high levels of activity in your place? Endura E21 is what you need to ensure that the floor is durable and good looking. It is a 100% solid, pigmented epoxy floor coating which ensures improved chemical protection. The product has been used in the United States and Canada for more than 10 years.
Why use Endura E21
Improves floor protection
Reduces operational costs as it ensures the durability of floor
Zero VOC
Easy application and clean up
Fast cure rate
Low odor during application
Endüra P70 | ultra-high solids aliphatic Polyaspartic polyurea
Endura P70 is a very important chemical used to take care of concrete floors. It is a two component, ultra high solids, aliphatic Polyaspartic polyuria designed to provide high gloss, Ultra violet stable and chemical resistant protection. It has the property of having fast cure and low odor and stain resistance. It is available in a clear color only. It has been in use for mny years in Canada and United States.
Why use Endura P70
Low odor and fast cure
VOC compliant
Fast set times
Excellent UV resistance
Very high gloss
Chemical and stain resistance
Fast set times