products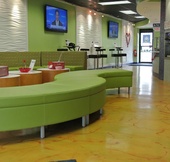 Lumiere Designer Epoxy
Designer Epoxy Flooring

Lumiere Designer Epoxy Coating System
Having a good looking floor is no doubt one of the most important desires of every home owner or developer. A house with a stunning visual effect is very important if the house is to achieve a good rating in the market. To help improve the visual impression of the floor, many products can be used. However, Lumiere is the premier epoxy flooring system that has been used by thousands of developers with maximum satisfaction. It combines the strength and durability with an amazing reflective enhancer. Lumiere metallic pigments are colorful being composed of a versatile class of coloring agents which are composed of fine particles of malleable metals in elemental form.
Why use Lumiere
For many years, developers have continuously used Lumiere for some of the following reasons:
Relatively low price compared to other compounds
Good clarity and color retention
Low viscosity-ensures that there is an easy application and clean up
Low odor during application and curing
Available in fast cure option
How it is applied
It is advised that trained personnel be involved in the application process. This is because failure to use specialized personnel may bring out a bad outcome.
During the installation, Lumiere metallic epoxy system is applied as three or four coat system. The primer coat Perdure EO2, Lumiere and application of topcoat Perdure U50 or Perdure P70 are involved in this process.
Who uses Lumiere?
The use of this product is recommended but not constrained to the following:
Retail Showrooms
Salons and Spas
Restaurants and bars
Gyms
Children care facilities
Night Clubs and cafeterias
Health facilities
Offices
Public buildings
For more information, please visit http://www.duraamen.com/site_media/media/product_files/lumiere.pdf
Technical Data
| | | | |
| --- | --- | --- | --- |
| Tensile Strength (ASTM D-638) | 8,500psi | Solids Content | 100% by volume |
| Adhesion to Concrete (ACI 403) | 350psi (100% concrete failure) | VOC | 0 |
| Hardness(ASTM D-2240) | 80 (Shore D) | Gloss, 60°F | 100-110 |
| Flexural Strength (ASTM D-790) | 8,000psi | Density | 9.0-9.70lb/ga |
| Compressive Strength (ASTM D-695) | 11,000psi | Pot life | 30-40min @ 75°F |
| Service Temperature | 150°F | Dry to touch | 10-14hours @ 75°F |
| Water absorption (ASTM D-670-73) | 0.10% maximum | Recoat | 14-16hours @ 75°F |
| Viscosity @ 75°F | 750-1000cps | Light traffic | 24hours @ 75°F |
| Mixing ratio | 4 (Part A) : 1 (part B) | Full cure & Maximum Resistance | 5 days |